Trillium Birth Center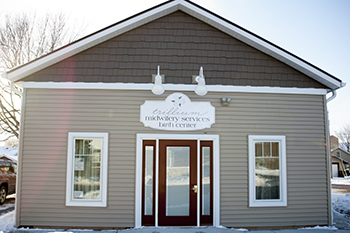 We invite you and your family to tour the Trillium Birth Center, 1201 S. Beaumont Rd., Prairie du Chien WI, so you will be comfortable with the center prior to your birth.
Our birth center is conveniently located just a few blocks from the Hwy 18 bypass, and is nestled in a quiet, residential neighborhood. It is just five minutes from our birth center to Crossing Rivers Health Center which provides OB and surgical services.
We opened our doors in October of 2016 with the hopes of serving a clientele who wishes for a natural birth but prefers to not be at home. Our birth suite aims to provide an inviting and restful atmosphere, both for a laboring woman and her companion. We serve clients within about a 50 mile radius of Prairie du Chien, including both southwest Wisconsin and northeast Iowa.
Please contact us for a tour and a free consult visit. 608-379-3099
Tour Trillium Birth Center
Trillium Midwifery Services offers affordable and quality pregnancy care,
culminating in natural, peaceful births, and healthy moms and babies.
Contact us for a free consult visit.