Postpartum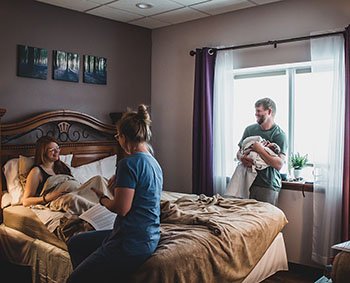 After your baby has arrived, Trillium Midwifery midwives remain with you until you are stable, fed, and have had at least one successful breastfeeding session. We will perform a complete newborn exam on your baby and ensure that he or she is transitioning well. If you birth at home, we help to clean up your house, start the laundry, and make sure that everyone is taken care of, usually leaving between 2-4 hours after birth. If you birth at the birth center, women typically leave for home around 4-6 hours after delivery, or until both mom and baby are stable and everyone is comfortable with going home.
We come to your home to visit between 24 and 48 hours, and again between 2-3 days to check in on you and your baby. No trips to the doctor's office, waiting in a clinic, or bundling up a newborn in the middle of winter – we will come to you. By two weeks women are generally ready to get out of the house, and we invite you to come to one of our clinics for a complete check of both mom and baby. At six weeks, we will have our final visit at the clinic to talk about your postpartum recovery, well woman care, and family planning. Extra visits are offered as needed during these six weeks.
We will apply for the baby's birth certificate, social security number, paternity statements if necessary, and bill any insurance. We also offer all newborn screenings that are requested by the State of Wisconsin (screening for congenital and metabolic disorders, critical congenital heart defects, and hearing loss).
Trillium Midwifery Services offers affordable and quality pregnancy care,
culminating in natural, peaceful births, and healthy moms and babies.
Contact us for a free consult visit.