Sacred Heart Sonography
Meet your Sonographer
Kaitie Bushee is a Sonographer, wife, and mother to three. Kaitie's deep passion for pregnancy and the stages of fetal development are what lead her to a career in ultrasound. Kaitie enjoys being a gateway for families to witness the precious life they've created inside the womb. She uses her skill set to acquire and analyze sonographic images for diagnostic purposes. Kaitie has 7 years' experience working in local critical access hospitals. In 2021, she began offering her own mobile diagnostic ultrasound services in hopes to better serve the surrounding communities. Her services are offered for cash pay rates and include not only OB, but also abdominal, vascular, and general ultrasound exams.
Services Offered
OB/GYN Ultrasound: Pelvic, Transvaginal, OB exams
General: Abdominal, Renal, Thyroid, Small parts (does NOT include Breast)
Vascular: Venous extremity (DVT studies), Carotid, Abdominal Aorta
Explanation of Services
All services are offered for cash rates and include a licensed Radiologist's interpretation of the exam. This is particularly beneficial for those with no health insurance, those who have limited options due to their health insurance plan or for those with high deductibles.
Exams are offered by appointment only. Appointments are currently scheduled at one of Trillium Midwifery's locations in Prairie du Chien or Boscobel, WI. Travelling services are available upon arrangement.
Contact Kaitie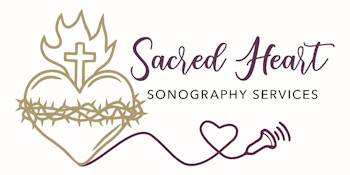 For more information or to make an appointment, feel free to contact Kaitie.
Call/text: 608-485-2528
Email: sacredheartsonography@outlook.com
Follow Kaitie on Facebook or Instagram
Disclaimer
Sacred Heart Sonography and Trillium Midwifery Services are separate entities. Products and Services offered by Sacred Heart Sonography are not products or services of Trillium Midwifery Services.
Trillium Midwifery Services offers affordable and quality pregnancy care,
culminating in natural, peaceful births, and healthy moms and babies.
Contact us for a free consult visit.