Labor and Birth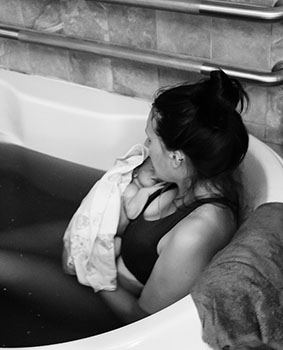 When the time has finally come for the birth of your baby, anticipate the constant support of the midwives you already know. No matter how your birth unfolds, you and your family can rest assured that you will be well-cared for.
Trillium Midwifery Service midwives utilize their training, experience, intuition, touch, massage, and soothing and encouraging words to escort you through labor and birth. We utilize our "bag of tricks," such as showers and birth tubs, warm packs, aromatherapy, food, movement, and rest to revitalize and relax you. We continue to monitor the well-being of you and your baby throughout your labor, but do so gently and unobtrusively. We offer you as little or as much labor support as you desire and keep interventions to an absolute minimum.
At the time of birth, we utilize measures such as warm compresses on your bottom or birthing in water in combination with a controlled delivery to gently welcome your baby and reduce tears to your bottom. Skin-to-skin contact is encouraged and separation between you and your baby is discouraged. The umbilical cord will not be cut until it is finished pulsing, and the placenta will be delivered in an unhurried manner. Breastfeeding is encouraged, and we will work with you both to see that you are successful. You and your baby will be given the opportunity to adjust quietly and safely.
For those who desire, a vaginal birth after cesarean (VBAC) option may be available. Research shows that 80% of women will be able to have a vaginal birth after a cesarean, with this number being reported even higher in a recent study on home birth VBACs. Part of our care will be reviewing your current and prior pregnancies and discussing the risks and benefits of all your options.
Ultimately, labor and delivery can be challenging, despite how well-prepared you may be. An out-of-hospital birth means you are intent in meeting that task, and identify it as a valued entrance into motherhood. Our clients value the innate wisdom and sanctuary of an undisturbed, natural labor.
Trillium Midwifery Services offers affordable and quality pregnancy care,
culminating in natural, peaceful births, and healthy moms and babies.
Contact us for a free consult visit.